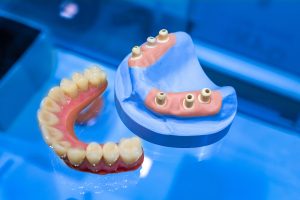 Tooth loss is a phenomenon that nobody wants to endure, and if it can be avoided at all costs, it is. The fact of the matter is, however, that tooth loss does occur and at times, extraction can be necessary if it means preserving the health of your smile. In some cases, all of an individual's teeth are gone or in need of extraction. When this occurs, dentures are custom-created to ensure that you will be able to continue everyday oral function, such as chewing or enunciating. At The Dental Implant Place in Fort Worth, TX, we recognize the difficulties that accompany tooth loss, and offer a way to fit your dentures to your smile with same-day dental implants.
Secured to Your Jawbone
When we begin the process of placing your dental implant, we take care to strategically plan the placement and angle at which your post will be inserted. We utilize digital technology to create a surgical guide or digital representation of your mouth to insert the posts in the most optimized way for your bite's functionality.
The jawbone and the titanium posts used form a tight and secure bond as the jawbone heals around the post, usually taking around four to six months to fully heal depending on the specific procedure. The posts act as an artificial tooth root so as to not only secure the restorations to your gumline, but to ensure the structural integrity of your jaw is maintained and your restored smile can handle the stress of a normal bite.
All-On-Four
Once a post has been placed, a crown or restoration can be created and secured all in one visit. We utilize advanced technology to carefully create custom, life-like restorations that match the shape and texture of your grin. We can create full or partial dentures that mimic the appearance of your natural teeth, and we can secure them with dental implants. In this circumstance, the use of a post for every tooth not only would be difficult, but it would be a very invasive procedure that would require a great deal of healing. Fortunately, we utilize a method called all-on-four, in which we strategically place four posts for your dentures. This assists with not only providing an efficient way to place your restoration, but is minimally-invasive in nature and will result in a quicker heal time. For more information about our all-on-four dental procedures, contact our office today.
Contact Our Fort Worth Office
Loosing teeth can not only be a traumatic process, but it can really affect your confidence in your appearance. Fortunately, Dr. Brown at The Dental Implant Place will work with you to secure your partial or full dentures with minimally-invasive implant dentistry. Contact our Fort Worth, TX office today by calling 817-560-0414 for a free consultation.