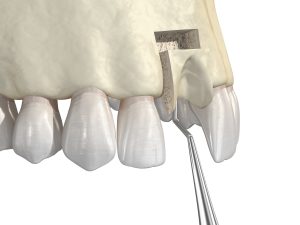 If we were to look at dental treatment from the 1900's and treatment from today, one major difference would be immediately recognized: technology has streamlined the world of dentistry. Indeed, new-age procedures have increased the quality, simplicity, and success of treatments intended to preserve your natural teeth. What's more, it has paved the way for a new age of prosthodontic options that utilize less structure, a minimally-invasive approach, and can be performed in a single visit. Even still, some circumstances still prove a difficult hurdle to jump. In today's blog, your Fort Worth, TX oral surgeon will take a look at how lack of jaw structure can impact your procedure, and how our team can help.
How Your Oral Structures Work Together
Whether you are aware of it or not, your oral health is comprised of more structures than just your teeth. In fact, it would be more accurate to think of your oral cavity as a system, where each section contributes to the overall goal. In other words, each area works in conjunction with another to accomplish a given task.
Your tooth, for example, is comprised of two main parts: the root and the crown. The crown is the section that allows you to bite, and the root is secured in the jaw bone and helps your crown to properly absorb the pressure of your bite. This means that the crown, the root, and the jaw all work together to help you performs tasks such as biting, chewing, and eating. To learn more about this process, reach out to our team today.
Solutions for Rebuilding Support
Because the jaw structure is needed in order for your teeth to function optimally, a lack of jaw area can pose a serious issue. In cases such as these, your dentist may recommend a bone grafting or sinus lift treatment in order to better ensure the success of your dental implants. This process utilizes a biocompatible material to help strengthen your lower or upper jaw bone.
Jaw degradation can actually occur when a natural tooth root is no longer present and the bone cannot be stimulated. The result is then a weakening of the jaw and losing some of the area. Reach out to our team to learn more.
Alternative Options
If you are hesitant to receive additional treatment for your new dental implants, another option that you may want to consider is mini-implants. These restorations are designed to utilize a minimal amount of structure while still affording your oral function to increase.
Learn More Today
For more information about the importance of tooth replacement, contact The Dental Implant Place in Fort Worth, TX by calling 817-560-0414 to schedule your initial consultation with our team today.