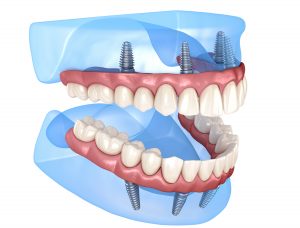 It goes without saying that having a full set of teeth is everyone's goal, and keeping that smile for life is an added benefit. In addition to the cosmetic appeal, a full grin supports proper oral function, protects your structures, and is overall beneficial for your oral health. In some cases, however, dangerous decay and infection can cause significant tooth loss that cannot be prevented. In situations such as these, having a custom restoration can help restore much of your function. In today's blog, your Fort Worth, TX oral surgeon discusses why function is important to your health, and how an All-On-4 denture can help.
How Structures Work Together
While it can be easier sometimes to separate the different bodily systems into more easily digestible categories, it is also important to keep in mind that all of them work in unison to help you function throughout the day.
The same can be said about your oral health in that it works as a system. For instance, your tooth is comprised of two main parts: the root and the crown. The crown allows you to perform actions such as biting and chewing, while the root establishes a secure connection in the jaw to allow your crown to properly absorb the pressure of your bite.
When you lose one or more teeth, bear in mind that gaps in your grin are more than just a cosmetic concern. In fact, the loss of a present root can cause jaw degradation as there is no longer something stimulating the bone and keeping it strong. What's more, your oral function will be impacted as well, making daily tasks such as eating, speaking, and biting much more difficult. For more information, reach out to our team today.
Minimally-Invasive Approach
Because your teeth are so important, your dentist may recommend treatment in the form of dental implants. You see, a biocompatible implant post can function as an artificial root, creating a secure connection with the jaw bone and allowing your new crown to absorb the pressure of your bite once more.
In cases involving total or complete structural loss, a solution known as All-On-4 can help. This consists of a partial or full set of dentures that are implant-retained utilizing the strategic placement of only four posts. To learn more about your options, reach out to our team today.
Enjoying Your Grin Sooner
There is nothing more grueling than having to wait an extended period of time to have your restorations created. With our all-in-one office and in-house lab, you can enjoy your new smile sooner with same-day treatment.
Learn More Today
Contact The Dental Implant Place in Fort Worth, TX by calling 817-560-0414 to learn more or schedule your initial consultation with our team today.