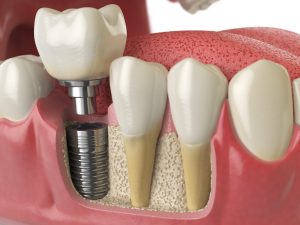 In our previous blog, we discussed how implant restorations are secured to your smile, as well as why an individual may need to seek prosthetic dental options. Indeed, losing a tooth is often the last thing an individual wants to endure, especially since teeth are considered permanent and will not simply grow back. That being said, loss is a significant occurrence, and one that is often the result of a severe infection that has spread or is needed to protect surrounding teeth. Even still, waiting for too long before seeking such treatment will inevitably do you more harm than good in the long run. In today's blog, your Fort Worth, TX oral surgeon discusses why waiting for treatment can end up making your situation worse, and how our team can help.
Why You Should Consider Function
You often hear that your oral health is the most important factor to consider, but what exactly contributes to its safety or harm? As a matter of fact, all structures present in the oral cavity contribute in some shape or form to your health status. In fact, your overall structure, appearance, and even function play a role.
Arguably one of the more important aspects, function helps you to perform daily tasks and activities such as biting, chewing, eating, and even enunciating. When you lose a tooth, you are not simply gaining a gap in your grin, but you are enduring a hurdle to your overall function. For instance, each tooth is made up of a crown and a root. The crown helps you eat and chew, while the root is embedded in the lower jaw securely to help your crown properly absorb the pressure of your bite.
The Dangers of Prolonged Waiting
When an individual loses one or more teeth, the remaining structures must work to accommodate the missing ones. This can inevitably lead to strain or tension, difficulty in performing routine tasks, and more.
Another concern that arises when missing several teeth includes what happens to your jaw. After all, when the structure does not contain a root to stimulate it, it has nothing to help keep up its strength. This inevitably results in jaw degradation, which in turn makes it difficult to properly place dental implants without fear of failure or falter. To learn more about this process, reach out to our team today.
Alternative Routes to Consider
If you are seeking biocompatible post restorations but have suffered significant bone degradation, you may need to seek an alternative route to ensure successful treatment. This includes asking your dentist about a bone grafting/sinus lift treatment to rebuild healthy structure, or even learn about your options that utilize significantly less area such as mini-implants.
Schedule Your Consultation
To learn more or schedule your visit with our team, contact The Dental Implant Place in Fort Worth, TX by calling 817-560-0414 for your free consultation today.