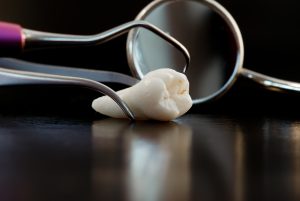 While many forms of dental concerns typically develop over time, some may take control at a much more rapid rate than you expect. What's more? Once you lose a structure, the clock is essentially ticking down for you to receive a replacement, as your jaw bone may begin to degrade or deteriorate without an active root to help stimulate it. In today's blog, your Fort Worth, TX oral surgeon explains how our team can help mitigate infection and prevent it from spreading by removing a compromised tooth in a single visit.
When Concerns Develop Rapidly
From the time you were young, you likely had a parent or guardian emphasize the importance of taking care of your smile. This often consists of a well-rounded preventive routine, including brushing, flossing, paying mind to the effects of certain food items you consume, and attending routine checkups. Indeed, falling short in any one of these areas is enough to invite oral threats to wreak havoc on your grin.
In most cases, severe infection and decay occur gradually over time. What's more? These issues are often difficult to identify at their onset without a trained professional to examine for any concerns. Once a patient begins to notice an issue has developed, however, it has likely spread significantly.
When dental decay and infection spread rapidly, it is important to know that the issue is not unique to the compromised tooth. In fact, the infection can spread to adjacent structures and cause their downfall as well. Because of this, it is always better to seek treatment sooner rather than later so that you have the best chances of salvaging your grin. For more information about this process, reach out to our team today.
You Don't Have to Wait
One of the biggest obstacles that many patients face when dealing with a majorly compromised tooth has to do with wait time. Fortunately, that is not the case with our team. In fact, we can provide a dental extraction same-day in a single visit if the concern is warranting it. We recognize the speed at which an issue can progress, and sometimes that means making the decision to remove a diseased tooth before it can impact your surrounding healthy structures.
Seeking Replacement Structures
When receiving an extraction, your dentist will make sure you are aware of your options, including why it is important to address a gap and replace a lost tooth. With the help of our in-house lab and advanced dental equipment, we can oversee your dental implant procedure all from the comfort of one office. Indeed, we can help you enjoy your new custom implant in as little as one day.
Learn More Today
To learn more about the importance of removing compromised teeth, contact The Dental Implant Place in Fort Worth, TX by calling 817-560-0414 to schedule your free consultation with our office today.