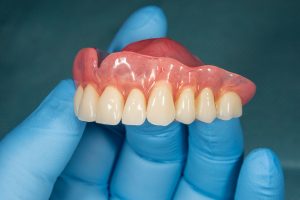 It goes without saying that nobody wants to lose their permanent teeth at any point during their lives. After all, maintaining a healthy smile for life is achieved through consistent brushing, right? The truth is, not necessarily. Indeed, brushing is an important part of your dental routine, but it is just a portion of the entire thing. In addition to this, you must also pay mind to what you eat and ensure you are attending your routine checkups and cleanings, otherwise you may experience significant tooth loss down the line. In today's blog, Fort Worth, TX oral surgeon will discuss the importance behind replacing lost teeth, and how implant-retained dentures can restore both your appearance and your oral function.
Increased Function
While your teeth are major players in your overall oral function, it is important to note that your ability to bite, chew and more are made possible because your structures all work together. For instance, your teeth are comprised of two main parts: the root and the crown. As your crown performs routine tasks such as biting and chewing, your root maintains a secure relationship with your jaw so that the crown can support the pressure of your bite to make the process happen.
Another important function to note is the way the root is embedded in the jaw. This helps stimulate the bone to keep it strong and sturdy, thus supporting your bite's pressure. When a root is missing, however, there is nothing present to stimulate the bone and the result is its gradual degradation.
Down the line when you decide to pursue implant treatment, there may not be enough healthy bone left to support your biocompatible posts, and your treatment may end up failing. What's more? You will need to seek additional treatment such as bone grafting or a sinus lift in order to rebuild the structure.
Accuracy and Precision
In addition to the obstacles you may experience if you put off your treatment, you could also face the reality of losing several teeth as well. In fact, once you lose a permanent tooth, your chances of losing more subsequent teeth increase exponentially.
Indeed, it is best to act sooner rather than later when pursuing your dental implant treatment, and our team is ready to help. Not only can we provide high-quality treatment to insert your biocompatible posts, but we can also create high-quality restorations such as implant-retained dentures to complete your smile once more.
Enjoying a Complete Smile
We recognize that seeking implant treatment can be a frightening process for many, but our team works diligently to provide the most comfortable and minimally invasive treatment possible. Ask our team about your restoration options today.
Schedule Your Consultation
Contact The Dental Implant Place in Fort Worth, TX by calling 817-560-0414 to learn more about the benefits of a complete smile and schedule your initial consultation with our team today.