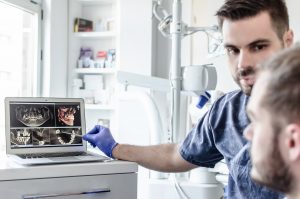 While losing a tooth as a child can be an exciting process, the same cannot be said for losing a structure as an adult. Indeed, adult teeth are considered permanent and will not grow back on their own, which is why it is such a big deal for one to become dislodged or lost to infection. Though the thought of replacing a lost structure with a custom implant can seem like a daunting process, advances in dental practices have made the process much more comfortable and streamlined. In today's blog, your Fort Worth, TX oral surgeon discusses the way we utilize a minimally invasive technique to help you enjoy your high-quality replacement sooner.
Avoiding Unnecessary Trauma
Though it might not be everybody's first choice, replacing a lost tooth is critical for a number of reasons. First, a missing tooth can significantly impact your bite. Indeed, your structures all work together to ensure proper function through a series of complementary relationships. For instance, your crown is used to perform tasks such as biting and chewing while your root's secure connection to the jaw allows the crown to absorb this bite pressure in the first place.
Second, a full and complete smile helps avoid unnecessary strain or difficulty when performing routine tasks. These include biting, chewing, eating, and even enunciating. Because of these reasons, ensuring a complete smile is critical.
Even with the information provided, many patients may feel reluctant to seek treatment in the form of a dental implant. This is often due to the fear of an unknown procedure, hearing stories of individuals that had traumatic past experiences, and the timeline often involved. Fortunately, Dr. Brown implements a minimally invasive technique that helps you enjoy your smile sooner without the need for unnecessary trauma.
Faster Recovery Times
By seeking a minimally invasive approach, you can avoid the extended wait time for fully-healed teeth. While traditional implant placement often involves the creation of flaps – an incision in the gums that are then peeled back to expose the jaw bone – the technique Dr. Brown uses allows for less trauma. Indeed, this process involves creating a tiny pinhole incision, then gently rotating the post into place. Because it avoids excess cutting, your new implant will heal much faster.
Higher-Quality Results
In addition to less recovery time and unnecessary trauma, your implant procedure can yield higher-quality results. We utilize a complete in-house lab and equipment to oversee your process from start to finish. Because the same team is able to oversee your entire treatment, you can rest assured that there will not be any variations in the quality of care.
Schedule Your Free Consultation
To learn more about our minimally invasive approach and enjoying your smile sooner, contact The Dental Implant Place in Fort Worth, TX by calling 817-560-0414 to schedule your free consultation with our team today.