If you're reading this, you may have recently realized the benefits of getting a full mouth set of dental implants. Maybe you've already struggled with the discomfort of dentures and are ready for a change, or maybe your teeth are simply too damaged to support a healthy quality of life. But what is the cost of full mouth dental implants? How much do you need to invest to replace all of your teeth?
This post will outline full mouth dental implants and the different factors that can affect their cost. These include extractions, material quality, and the different pricing structures that practices can use. Keep in mind that prices can vary significantly depending on region, implant dentist, and even in the way that each dental office charges for their dental implant cases.
Types of Full Mouth Dental Implants
It's important that we define the terms before we start talking about the cost of full dental implants. At DIP the term "full mouth dental implants" refers to a procedure that replaces a full arch of natural teeth with dental implants and a prosthetic that fits over them. There are a few types of dental implant procedures that meet this description. 
All on 4 / All on 6
Snap in Dentures
Zirconia Full Arch Bridges
All on 4 v Snap in Dentures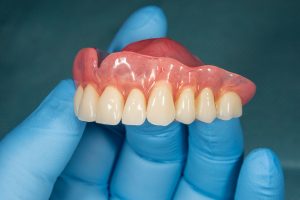 All on 4 and All on 6 usually refers to full arch prosthetics that are made from acrylic with a metal base. In each case, the acrylic prosthetic is screwed on to the dental implants (4 for All on 4, 6 for All on 6). This makes it impossible for the patient to remove the prosthetic.  Prices for these procedures can vary drastically. The cost of All on 4 can be as low as $10k per arch in some offices and as high as $50k per arch in others.
Snap in dentures are also usually made from acrylic. This makes their material essentially the same as All on 4 and All on 6. The biggest difference between these procedures is that an implant supported denture isn't permanently fixed to the dental implants that are anchoring it. Instead, the denture snaps on and off of the implants so that it can be taken out and cleaned in solution. Routine cleaning out of the mouth prevents build up of bacteria and odor.
Implant dentures are typically less expensive than All on 4 or 6 in the same office. However, their cost can vary significantly as well depending on the office in question – as low as $5k per arch and as high as $25k per arch. 
At DIP, we provide implant supported dentures, but we do not place All on 4 or All on 6. Because All on 4 and 6 are usually made from the same material as dentures, we believe that they should be cleaned in the same manner. 
It's widely accepted that dentures need to be removed in order to be cleaned properly. In addition to being left in solution overnight, they should be brushed along the grooves that fit against your gums. So that bacteria doesn't accumulate on the inside. If an acrylic prosthetic is permanently fixed to your implants, then cleaning them effectively becomes very difficult. 
Zirconia Bridges
Zirconia is the highest quality material in implant dentistry for making realistic-looking full mouth dental implants. It is much stronger than acrylic, and is non-absorbent. Zirconia bridges can be cleaned with brushing just like natural teeth. Not only that, but they don't overlap with your gum tissue like acrylic bridges and snap in dentures. In other words, they feel and function like natural teeth.
Because of their high quality, full arch zirconia implants tend to cost more than All on 4 or implant dentures. Just like these procedures, their cost vary significantly depending on the dentist or office. On the lowest end, zirconia bridges can start at $20k per arch. On the high end, they can cost as much as $55k per arch. 
10 Factors That Affect the Cost of Full Mouth Dental Implants
There are a number of factors that you need to account for when getting a cost estimate on full arch dental implants. Many of these factors could increase the cost or affect the quality of your full implants. Therefore, you as the patient should know what to look for when evaluating dental offices.
1. Per Implant vs  Full Arch Pricing
This is a very important distinction in how offices charge for full implants. Most dental implant dentists and oral surgeons charge per implant for full arch cases, and this can significantly raise your price.
First, the cost of an individual dental implant can range from $1,500-$6,500. However, in these numbers can be misleading, because many offices charge separate prices for every single piece of material that goes into replacing your tooth. So an office that charges $1,500 per implant may seem like it's giving you the best deal in town, but then they may charge you an additional $1,000-2,000 for the crown and $500 for the abutment. In other words, while the price may have been advertised as $1500, it can end up being $3500 or more per tooth.
This problem can get worse when you're trying to get an estimate on full mouth dental implants. To illustrate, a normal adult mouth has 32 teeth. Some offices will actually charge you their per implant fee to determine your cost of full mouth dental implants. However, almost no office is actually going to give you 32 implants to hold in your full arch bridges. Instead, they will often hold your bridge in with 4-6 implants (a.k.a. an All on 4 or All on 6). In other words, you may end up paying more per implant the more teeth you are replacing.
The Dental Implant Place doesn't charge you this way. We charge a fixed cost for a set of full mouth implants, regardless of how many dental implants you actually need in your jaw to support your full arch zirconia bridge or snap in denture. Meaning, we don't charge per implant. Not only that, but we almost never place an arch of full dental implants with a few as 6 implants. Usually we place far more, and these additional implants are included in your cost.
Moreover, we don't try to confuse our patients by charging separate fees for the different components of a dental implant. Your quote will be per procedure and will itemize every type of procedure included in the cost.
2. Multiple Offices Means Multiple Bills
Getting every step of your dental implant procedure taken care of in one office will significantly affect the cost of full mouth dental implants. If you are working with a dental implant dentist that can't meet all of your procedural needs in one office, then your price will go up. More offices means more bills. 
However, getting one bill in one office can eliminate many additional costs – visits, measurements, lab expenses, x-rays, scans, etc. Our practice takes care of your entire implant procedure in one office, which greatly benefits our patients in terms of convenience, time, and return on investment.
3. Quality of the Material – Zirconia v Acrylic
Full dental implants can go up or down in price depending on the material being used to build your new set of teeth.
Many implant dentists advertise that they provide full arch bridges. However, many of these offices use acrylic to build their dental crowns and bridges. Acrylic is the same plastic material used to make dentures. It is highly absorbent and cannot be cleaned adequately with brushing. This is why dentures must be removed and cleaned in a solution.
This is one of the reasons why you should only go to a dental implant office that offers zirconia bridges. Zirconia is a mineral that looks like natural teeth and is comparable to natural teeth in strength. Some offices only provide acrylic bridges, which can drive down their pricing. Other offices charge $50-60k for full mouth dental implants while still only using acrylic to build their bridges,
So when you're getting a quote on the cost of full mouth dental implants, be sure to ask if the new teeth will be milled from zirconia. 
Generally, zirconia is the highest quality material available. Therefore, be prepared to pay more for this type of treatment. Keep in mind that many offices don't provide zirconia, especially those offering the lowest prices. In fact, even some of the higher-priced implant dentists and oral surgeons aren't either.
4. Extractions
If you still have teeth that need to be pulled, be sure to factor this in your full mouth dental implants cost. Simple extractions usually range from $100-$300 per tooth in most dental and oral surgery offices. Surgical extractions can cost even more, sometimes up to $650 per tooth.
5. Different Sizes of Implants
Many dentists only place one type of dental implant. However, it's important that an implant dentist is proficient with multiple types and sizes of implants. This increases your chances for qualifying for full dental implants and can even increase the number of implants your jaw can support. Mini dental implants and small diameter posts can also be placed with less surgical trauma than wider implants. Less surgical trauma can mean faster healing and less pain. 
Finally, smaller implants can reduce the cost of full mouth dental implants. Some offices charge higher prices for treatments based on the price of the implants being used. Many times, a larger implant means a higher price. Not only that, but using smaller implants can potentially help you avoid the need for bone grafts. Bone grafts are an added cost and can be another surgical procedure on their own.
6. Dentist Experience Level
If you're considering a particular dental implant dentist, make sure to ask them how long they have been placing dental implants and how many cases they have performed. Generally, you should look for an office that focuses on implant dentistry. These offices may or may not charge more than general dentistry offices, but the added expertise is often more than worth it. 
7. Region
Dental implant prices can vary depending on the area. Generally, the higher the cost of living, the higher the cost of implants will be. The west coast and the northeastern U.S. have higher COL than the rest of the country, so if you live in these areas, be prepared to spend more than the national average.
8. Bone Grafts and Other Procedures
The cost of full mouth dental implants can rise with additional procedures. In addition to extractions, common treatments required to get full implants include bone grafts. 
Bone grafts can widely vary in price depending on the health of the grafting site and the method used by the dental practice. Synthetic bone grafts can range from $200-$1200 or higher. Grafts that use the patient's bone will always cost more, as high as $4,000 per graft.
9. Hidden Fees
Make sure to ask about any costs that could potentially be added to your full mouth dental implants procedure. Specifically, ask about the cost of appointments, additional scans, repairs, customizations, and any additional procedures that may be deemed necessary. If the dental office doesn't provide all of your treatment in one place, then it's more likely that there will be additional costs further into your treatment.
10. Financing
Make sure that the dental office or oral surgeon that you choose offers financing. Full mouth dental implants are a big investment, no matter where you get them. Financing your implant procedure can go a long way to getting a great return on your investment.
How Much Does it Cost to Get a Full Mouth of Dental Implants?
The cost of full mouth dental implants can vary drastically based on the office in question and the variety of factors we just covered. Here are price ranges of the U.S. market as of 2021. Please note that this is not our office's fee schedule or prices:
All on 4 –

$10k-50k per arch

Snap in Dentures –  $5k-25k per arch
Zirconia (Full Arch) – $20k-55k per arch
Are You Considering Full Mouth Dental Implants?
At this point you may have determined that full mouth implants are the best option for your oral health, or you may still be wondering if you can afford the cost. 
If this is you, then consider giving our dental implant office a call and scheduling a free consultation.
There are a number of ways The Dental Implant Place performs full mouth dental implants procedures that help you get the most out of your investment.
For starters, our practice is equipped to provide every step of your dental implant treatment for increased convenience and the elimination of hidden fees. We also provide dental implants financing so that you can manage the cost of full dental implants.
5 Ways Our Office Lowers the Cost of Full Mouth Dental Implants
1. As Many Implants Per Arch As You Need
At DIP, we do not increase the cost of full mouth dental implants based on the number of implants you get in your arch. In our office, we will give you as many implants as your jaw can healthily support. We do this at no additional cost. 
2. Full Mouth Dental Implants in
One Office 
At DIP, we handle every single step of your dental implant procedure. Not only is this highly convenient, but it lowers the cost of full dental implants by cutting out extra visits to additional offices. It also consolidates all of your costs into one bill.
Our in house dental lab allows us to handle every step of your procedure. We provide consultations, CT scans, same day extractions, implants, your temporary same day teeth, your permanent set of new teeth, and everything in between. 
3. No Hidden Fees
Providing All-in-One-Place care allows us to consolidate all of your full mouth dental implants cost onto one bill. Not only that, but it allows us to provide predictability in your treatment. Because we are handling every step of your procedure, we can help you prepare for all of the visits and steps required to provide you with full arch implants and make sure that none of those steps add extra fees to your bill. 
4. Small Diameter / Mini Implants
Because our dentists are proficient with every type of dental implant, we can give you the best size implant for your current jaw bone density. This means that you can potentially avoid bone grafts, thus reducing your costs and surgical trauma even further.
5. Financing with Rates as Low as 0%
Our office offers a variety of dental implants payment plans in our Fort Worth TX office so that you can afford your full mouth teeth implants cost. Some of our plans offer 0% financing, while others offer the chance to space your monthly payments out 5 years.
About The Dental Implant Place
The Dental Implant Place (a.k.a. DIP) is a dental implant office in Fort Worth, TX. Our dentists have placed over 12,000 dental implants over the past two decades and place every single type of dental implant. We are proficient in advanced implant dentistry, including same day extractions and minimally invasive surgery.
Experience & Focus
The Dental Implant Place (DIP) is an advanced dental implant office that focuses exclusively on implants and restorative care. Our staff, led by Dr. Steve Brown, has over 80 years of combined implant experience. 
Since 2007, we have placed over 12,000 dental implants in our practice. These include every type and size of implant, such as mini dental implants. It also includes every type of dental implant procedure, including snap in dentures, zirconia bridges, same day extractions, and single crowns and bridges.
Minimally Invasive Care
Our founder, Dr. Steve Brown, is an industry leader in minimally invasive implant surgery. DIP's philosophy is to place dental implants with as little surgical trauma as possible. This means less cutting, less stitching, and gentle delivery of the implant into the bone and gum tissue. Most dentists and oral surgeons use a common surgical procedure called "flaps" to place implants. It involves making long cuts along the gums and then peeling that tissue back to expose the bone. Then the implant is usually drilled into place with handheld equipment.
At DIP, our minimally invasive approach is much less traumatic than this method. Instead of cutting into the gum tissue, we create a tiny pinhole in the gums. Then, we gently rotate the implant into place. The size of each implant is chosen based on your specific jaw bone composition and density. 
Moreover, the angle of each implant is plotted with laser-point precision using advanced surgical imaging and careful planning based on the patient's CT scan. A CT scan offers a 360 degree view of a person's mouth. In other words, CT scans give our dental implant dentist vital information on the optimal angle and placement of each implant specific to each patient.
The minimally invasive surgical approach is a game changer for patients. It causes less surgical trauma, which leads to less pain during surgery. Some of our patients have reported feeling absolutely no pain during and after their full mouth dental implants procedure! Additionally, less cutting and stitching usually means much quicker healing. Finally, minimally invasive implant placement lowers the risk of implant failure.
National Recognition
Many patients have traveled from across the United States to our Ft Worth TX facility to get dental implant care. We have served patients from 9 different states and 15 metropolitan areas. Additionally, our founder and lead dental implant dentist has trained dozens of dentists in advanced implant techniques such as same day implants and extractions.
Get an Estimate on the Cost of Full Mouth Dental Implants
If you need full arch dental implants, then you need a dentist you can trust. The Dental Implant Place manages every step of your dental implant treatment, and our dentists have performed thousands of successful cases for people like you who deserve a new smile. 
Our experience and care standards are so high that dentists from all across the United States travel to our Fort Worth office to learn how to place dental implants. Call us today at 817-560-0414 and get a complementary estimate on the cost of full mouth dental implants.
You can also click here to Schedule a Free Consultation. 
Note: this blog was originally written in March 2017 and has been updated in July 2021.