One of the most common questions about dental implants is related to pricing. Everyone wants to understand dental implant cost, and rightfully so.
The purpose of this blog is to give you accurate information on the market rate for a dental implant. It is based on an independent survey conducted in the final months of 2021.
The market data in this post is from a survey by an independent research group of over 70 dental implants providers in the Lone Star State. We chose to focus on Texas because our office is located in Fort Worth.
In addition to this data, we'll also cover the factors that can (and often should) affect the cost of a dental implant. Cheaper is not always better, and low-end pricing can come at a cost to quality.
However, high prices also don't always reflect high quality. Some practices surveyed charged higher-than-average prices for dental implants, despite not offering a streamlined process or higher quality materials.
Therefore, it's important that you understand the features in an implant provider you should be looking for. This information will help you identify the provider offering you the best value for your investment.
Dental Implant Cost Varies Widely From Office to Office
While dental implant cost may seem like a straightforward question, it's actually not. Every dental practice will use a unique fee schedule, and pricing can range pretty drastically depending on who you ask.
For instance, one office in Austin TX quotes a single implant, crown, and abutment at $2800. However, another office in Dallas quotes the total cost of an implant and crown between $6000 and $8000.
An oral surgeon in Central Texas charges $2500 for the dental implant alone, but refers out to a cosmetic dentist for the crown and abutment. Cosmetic dentists also can charge a wide range for crowns and abutments.
Meanwhile, the most common price range for a crown appears to be between 2-3k. However, one office charged as high as $4,000. This was just for the crown and did not include the implant.
Different Services and Approaches Make the Cost of Dental Implants More Complicated
Additionally, there are different services and office features that can affect care.
For instance, many aren't aware that a person can receive a temporary prosthetic over dental implants the day they are placed. This is a very advantageous service. Without it, you will be forced to live with posts sticking out of your gums for 3-6 months.
However, many offices do not offer this service. This is especially true of providers who don't handle all of your treatment in one location. According to the survey data, this accounts for 45% of practices that advertise for implants. Among those that do, 90-94% charge extra – between several hundred or several thousand dollars.
There are a number of other factors that can (and often should) affect the cost of dental implants. Depending on the approach, skill level, and facilities of the dental implants provider, you may be expected to pay more.
However, our survey shows that high prices do not necessarily reflect an advanced level of care.
Therefore, it's important that you're aware of the services and features that can make your care better and faster.
Key Factors That Affect The Quality of Dental Implants
Here are some of the most important aspects of outstanding implant dentistry that you should be looking for when researching the cost of dental implants:
Zirconia vs Porcelain
One Location vs Multiple
In-House Lab vs Outsourced Lab
CT Scans vs X-Rays
Same Day Temporary Teeth
Same Day Extractions and Implants
Experience Level
Minimally Invasive Care
We will cover each of these in greater detail below.
While any of these services and office features can affect the cost of a dental implant, apparently they often do not.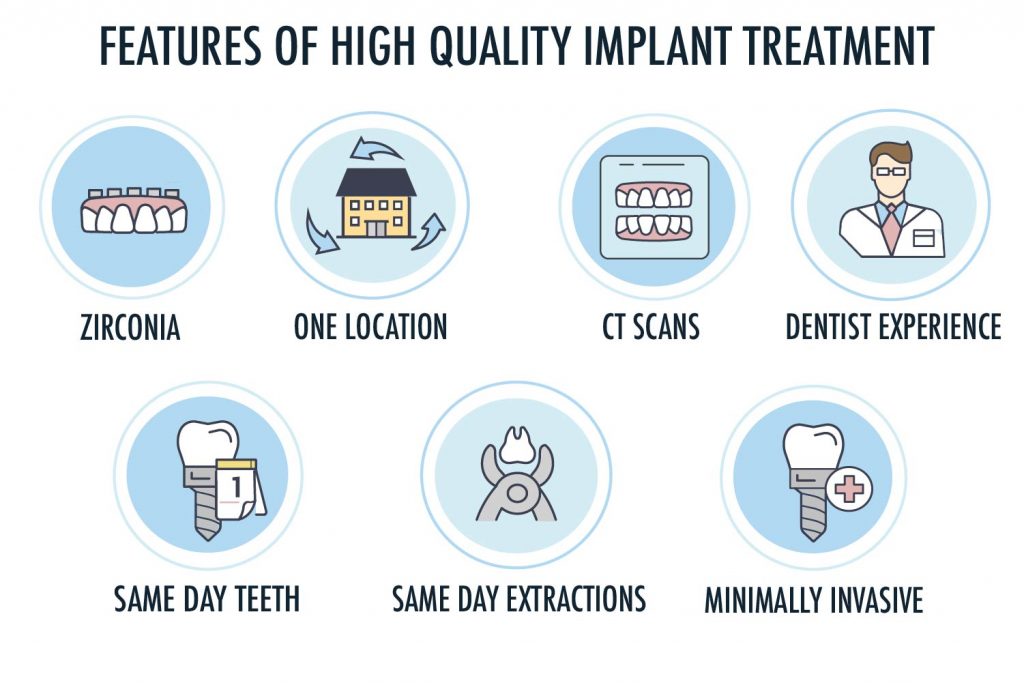 In fact, some of the most expensive quotes given in this survey came from offices that offered few or none of these advanced services.
This is why it's important for you to understand them all. Doing so will allow you to properly evaluate a quote from a dental implant provider. A minimum ballpark figure will not tell you the whole story.
Zirconia is Superior to Porcelain, But Most Offices Don't Offer It
Porcelain is a material commonly used in cosmetic dentistry for making crowns and bridges. Naturally, it is also often used to make crowns and bridges that are then cemented permanently to dental implants.
Porcelain can be designed to look like realistic teeth. However, it is not nearly as strong as natural teeth, so it is somewhat likely to crack or break over time. This is especially true when it's used to chew harder foods, like apples or corn-on-the-cob.
Zirconia is the most durable material available in dentistry for making natural-looking crowns, bridges, and full arch replacements. It is a diamond alternative with many of the same qualities and a comparable level of durability. Thanks to recent digital design and 3D milling technology, zirconia can be milled with laser point precision to resemble real teeth.
These features make zirconia the superior material for making crowns and bridges for dental implants.
However, only 38% of practices offered zirconia, out of those surveyed who shared information about their prosthetics.
Many of these practices also stated that zirconia crowns would significantly affect total dental implant cost. Most said that zirconia would raise the price they'd already provided.
It's important to keep this in mind when gathering quotes from dental implants providers. Many offices who strictly use porcelain will quote the same total price for a dental implant (or higher) as another office that uses zirconia for the same procedure.
Our dental implant office in Fort Worth uses zirconia for all of our crowns and bridges.
We also offer implant supported dentures (a.k.a. Snap In Dentures) made from acrylic as a more affordable alternative for patients who want full arch dental implants but can't afford zirconia.
CT Scans Reveal More Than X-Rays
CT scans are superior to X-rays when it comes to dental implants. This is because CT scans offer a 3D view of your jaw. As such, they reveal much more information about your jaw. Information revealed by CT scans includes the shape, amount, and condition of your bone. This gives the dental professional more information on where to place your implants.
In contrast, X-rays only offer a flat view of your jaw, and therefore provide much less information. When you're looking for a dental implants provider, make sure they offer CT scans.
Based on the results of the survey, roughly half of dental offices advertising for dental implants offer CT scans (49%) while the others only offer x-rays.
Having Every Step in One Location Saves You 8 Weeks on Average
According to our research, getting dental implants in one location will streamline your implant process by an average 8 weeks compared to multiple locations. The same survey showed that one-office care also decreases dental implant cost by 5% on average before added fees or services.
Having every step of your implant treatment in one location is far more convenient than multiple offices. It's even better if the office has their own in-house lab, which reduces margin for error in the design of your new teeth and can streamline your process.
This is the case with The Dental Implant Place. We were one of the first offices in the country to handle every step of the dental implant process.
An In-House Lab Can Shorten Your Process Even More
Out of the all the offices surveyed, only 8% had their own in-house dental lab.
The average implant timeline estimate from these practices was 3.6 months. This was almost two months shorter than the average estimate of the overall survey – 5.3 months.
Meanwhile, offices that outsourced their lab work usually stated that this process would add 2-3 weeks to a patient's waiting time.
In other words, while an in-house lab isn't guaranteed to streamline a patient's dental implant process, it certainly can. This is why our implant practice has our own in-house lab.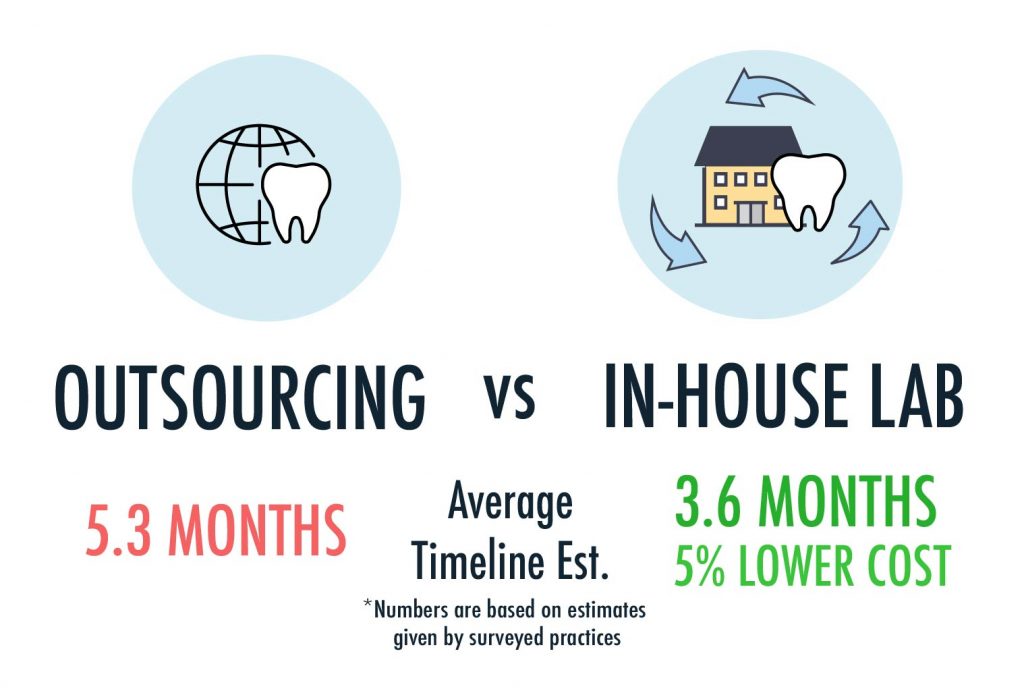 New Teeth in One Day is Valuable, But Most Offices Charge Extra For It
Ideally, you will want to have temporary teeth to wear over your dental implants as soon as they are placed. Whether or not this is possible can depend on your oral health, but this is definitely an option you will want to ask about.
Based on the survey, approximately 55% of implant providers offer temporary same-day teeth in at least some cases, while the remainder do not.
Out of those who do offer same-day dental implants, 90-94% charge extra for the service.
At The Dental Implant Place in Fort Worth, TX, we do not charge extra for same-day temporary teeth.
Same Day Extractions Can Save You 3-6 Months
Some practices will tell you that extractions and dental implants will need to be done in separate appointments. However, this is not always the case. In fact, our office frequently performs same day extractions and implants. We do this in every case where the patient has adequate oral health.
This is very important, because healing from extractions can take several months. If a provider is unable to perform this treatment, you can expect 3-6 months of additional waiting time for your final set of new teeth.
Sometimes this cannot be helped, no matter the surgeon's skill level. Nevertheless, you will want to consult with an experienced dental professional who regularly performs same day extractions and implants in order to discover if you qualify for this procedure.
Experience, Skill Level, and Approach Will Vary From Dentist to Dentist
Ideally, the dental professional placing your implants will have a lot of experience doing so. The best metric to determine skill level is the number of implants they have placed or the number of cases they've done.
This is because some dentists and surgeons don't specialize. They may technically have 10 years of experience placing implants. However, 90% of this time may have been spent performing general dentistry while occasionally placing a dental implant. In other words, the amount of time doesn't necessarily reflect the skill or experience that comes with placing a large number of implants in a wide variety of cases.
Our dental implant office in Fort Worth has focused exclusively on implants and restorative treatment since 2007. In that time, our founder, Dr. Steve Brown has placed over 12,000 dental implants. This number does not include the number of implants placed in his practice before shifting his focus to implant dentistry.
So if you're researching the cost of dental implants, make sure to ask questions about the provider's experience. They may not have an exact number, but they should be able to give you a rough estimate of the number of implants they've placed and if they offer certain types of treatment that are advantageous (same day extractions, same day temporary restorations, etc.).
Over 15% of Practices Surveyed Don't Place Dental Implants, Despite Advertising For Them
Believe it or not, a significant number of dental offices that talk about dental implants don't place them.
Out of all the dental implant providers surveyed, 16.4% didn't provide dental implant care themselves, despite listing it as a service on their website.
The Cost of Dental Implants in Texas in 2022
As previously mentioned, we hired an independent research group to conduct a survey in of 73 dental implants providers across Texas late in 2021. These included general dentists, oral surgeons, prosthodontists, and specialty practices that focused on dental implants exclusively.
Our goal in obtaining this survey was to provide you with an accurate vision for the going market rate, based on actual conversations with real implant providers.
The numbers you see here are based on the cost estimate for a dental implant given over the phone by each practice. They do not reflect our office's pricing, nor are they a statement on what dental implants should cost.
These numbers also do not account for additional services such as bone grafts, extractions, temporary same-day teeth, etc.
Average Dental Implant Costs in Texas
The following are the numbers gathered from a survey of 73 dental offices in Texas. These include 43 in the Dallas Fort Worth area, where our office is located. Providers surveyed include general dentists, oral surgeons, periodontists, cosmetic dentists, and implant-focused offices.
These numbers are not our office's prices, nor are they a statement of what the cost of dental implants should be. They simply reflect the results of an independent survey.
Total Cost (Implant, Crown, and Abutment)
Average – $4561
Highest – $8000
Lowest – $1995
Most Common Price Range
$4500-5,500
Implant-Only Cost
Average – $2604
Highest – $6000
Lowest – $1199
Crown-Only Cost
Average – $2907
Highest – $3991
Lowest – $545
What About Full Mouth Dental Implants?
This is a great question. The cost of full mouth dental implants is almost an entirely different discussion. Fortunately, we cover this topic in another blog using the same survey and the same approach. We encourage you to read it!
Want to Learn More About Dental Implant Cost?
For more information on dental implant cost in Texas, schedule a free consultation with our team.
This is ultimately the best way to gather information. Our highly experienced staff will be able to give you a quote based on your specific needs.
Our dentist and staff are extremely skilled in implant dentistry. We offer a state-of-the-art facility, with all-in-one-place care and an in-house lab. Since 2007, we have placed over 12,000 dental implants in a variety of cases.
In addition, we practice a minimally invasive approach to surgery that reduces pain and accelerates healing. Only a handful of practices in the world place implants like we do.
To get started, hit the button below and get scheduled! We look forward to helping you reclaim your quality of life.