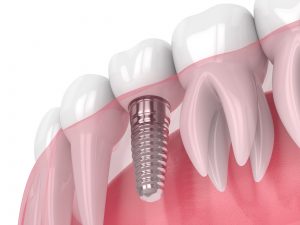 It goes without saying that advances in dental technology and equipment make it possible to address a variety of oral health concerns. Indeed, from a surface-level chip or crack to losing several teeth, restorative practices have the ideal solution for your unique needs. While tooth loss is far from anyone's first choice, sometimes it is the only option for treating significant infection. Bear in mind, however, that seeking a replacement is necessary as well, otherwise, you might face a series of complications from the open gap. In today's blog, we'll explore the need behind dental implant restorations, and why you should seek treatment sooner rather than later.
More than a Cosmetic Concern
Though tooth loss is often viewed as a cosmetic concern for its impact on your smile's appearance, it is important to note how it impacts your oral function as well. You see, your oral structures function together in a way to make everyday actions possible. For instance, we will take a look at biting, chewing, and eating.
Your teeth aid in biting, chewing and eating, but these processes cannot be made possible without the help of your jawbone and your gums. Indeed, your root creates a secure connection with your jawbone so that your crown can absorb the pressure of your bite without falter. In turn, your root helps to stimulate the bone and keep it strong. Additionally, your gums provide extra protection and cushion to help keep your structures in place.
Because of this, losing one or more teeth can significantly compromise your oral function altogether. To learn more about this process and why you should seek a dental replacement in the event of a loss, contact our team today.
Potential for Future Loss
In addition to its impact on your oral function, maintaining an open gap in your grin can actually increase your chances of enduring future dental loss. Indeed, there are a variety of ways one can lose a tooth, but the most common involves infection due to dental decay.
That being said, when a structure is lost to infection, there is not a guarantee that the infection is gone as well. This makes you more prone to losing adjacent structures as the infection spreads. In order to combat this, a thorough cleaning and tooth replacement can help.
Benefitting Your Structure
Tooth loss does not have to mean a smile riddled with gaps, and implant dentistry is an excellent way to help. Our team works closely with you to ensure your unique needs are met with a high-quality implant and restoration that you can enjoy for life, with proper care.
Learn More Today
Contact The Dental Implant Place in Fort Worth, TX by calling 817-560-0414 to learn more about the necessity of replacing missing structures, and schedule your free initial consultation with our team today.